What can you learn in a garden?
From the first iris beds precariously sited and ultimately destroyed at the bottom of a bowl-shaped landscape in 1934—a gift from the imagination of Dr. Frederic Hanes and the generosity of Sarah P. Duke—learning has been a part of Duke Gardens' story. From that hard-earned lesson came the Terrace Gardens, still visible and celebrated today. The education department, led over the years by Taimi Anderson, Alice LeDuc and Jan Little, built a legacy of learning inspired by the garden. Home gardeners have taken practical skills back to their gardens—innumerable plants have been reinvigorated by proper pruning, countless roots have been well established in fertile soil and invaluable pollinators have feasted on pollen provided by backyard flower beds. Through classes, workshops, lectures and walks, inspired by the horticultural artistry on display in the garden, people of all ages have connected with plants and each other.
In addition to practical gardening skills, the garden has been a place for exploring ideas, learning natural history or practicing crafts that use natural materials, like basket weaving and spoon carving. Program participants have learned ways to track the passage of time through sensory observations, to look on the ground below bare tree branches in early spring for the reward of spring ephemerals and to notice the blazing red flash of sourwood leaves as a signal of late summer.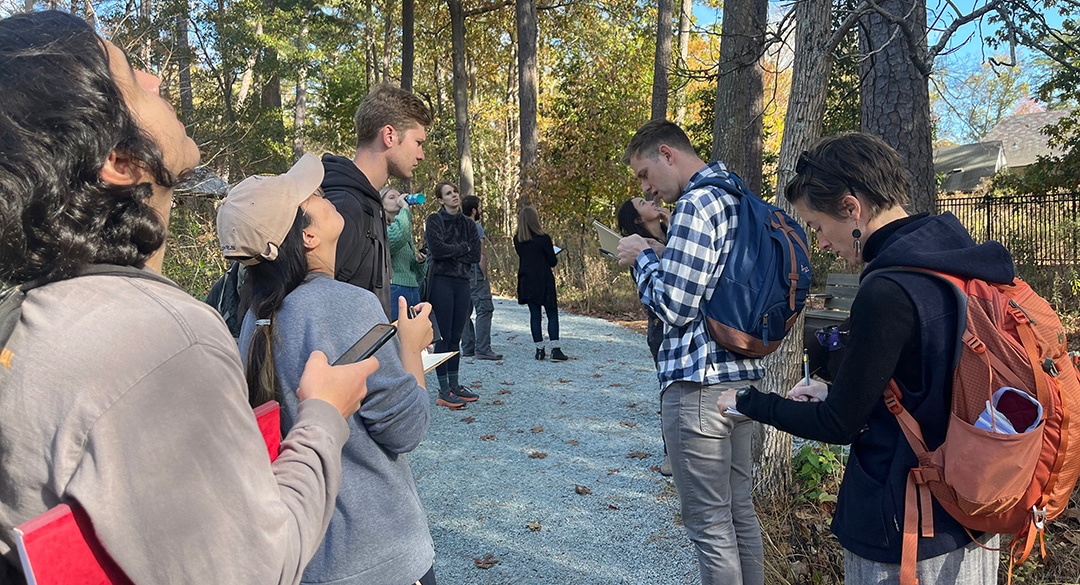 A garden is a place of ongoing learning about ourselves and the world around us. It's a place to take a stroll with a friend and observe the rich network of organisms made possible by plants. It's filled with invitations to slow down, to look, listen and feel. Just as the landscape design of Duke Gardens can be many things at once—a beautiful way to manage water, support wildlife, stabilize soil, and more—there are many ways to learn in a garden.
Duke Gardens aspires to be a place where people can deepen their connection with the land and each other. Plants, and the communities of living things they support, affirm that there are many ways to be in relationship with each other. In addition to celebrating the artistry of horticulture, the classes and programs that take place in this public garden can create opportunities for dialogue about cultural issues, like gardening in the context of climate change or grappling with the uncomfortable colonial history of display gardens. The life cycles of growth we learn about in the garden include decomposition and provide a model for the way outdated ideas can transform into new understandings.
A garden is a reminder that we are part of systems we influence and that influence us. By noticing change and adaptation in the landscape around us, we can learn to care for the plants that make us possible, and we can learn to care for each other. We can build resilient communities, encourage curiosity, create more connection and celebrate the abundance that plants provide. Building on the educational programming that has taken place in Duke Gardens for decades, we invite you to join us in continuing to find possibilities for learning inspired by the garden.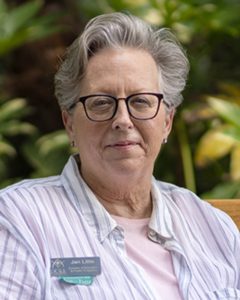 When
Jan Little
joined Duke Gardens as the director of education and public programs in 2010, she quickly set to work increasing the quality and reach of education, volunteer and visitor services programs, branching out over the years into new and exciting areas and partnerships. Over the next 13 years, Jan expanded the robust roster of classes and programs to invite more people to enjoy, learn and be inspired at the Gardens. In July 2022, we celebrated Jan's years of dedication, vision, professionalism, and leadership at her retirement, after nearly 40 years of experience in the horticulture and public gardening profession.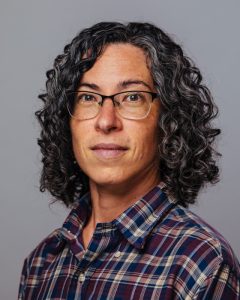 Kavanah Anderson is the new Director of Learning and Community Engagement, a role retitled to communicate Duke Gardens' dedication to building community through learning together. Kavanah spent 11 years developing garden-based learning experiences as Duke Gardens' program coordinator for children, family and school programs. Prior to arriving at Duke Gardens, Kavanah was the Durham Inner- city Gardeners (DIG) coordinator at SEEDS in Durham, as well as the Duke Engage Durham site coordinator at Duke University and a farmhand on small family farms in North Carolina and the Midwest. Kavanah believes that gardens are place to be serious, playful, experimental and reverential in the pursuit of recognizing and celebrating the relationships between people and plants. She holds a bachelor's degree in history from Beloit College and a master's degree in liberal studies from Duke University.
Liani Yirka is the new program coordinator for children, family and school programs. Most recently, Liani worked as the assistant manager of Walnut Creek Wetland Park in Raleigh. She has also worked as the diversity outreach specialist at the N.C. Wildlife Resources Commission and as an environmental program coordinator in the Wake County school system. She has held multiple roles at the N.C. Museum of Natural Sciences, including head of accessibility &  inclusion and Spanish program specialist. She has a master's degree in zoology from N.C. State and she has researched reptile and amphibian diversity in western Ecuador, as well as beavers, painted buntings and eastern tiger salamanders in North Carolina.
Photos clockwise from top: Jan Little (photographed by Clarence Burke), Kavanah Anderson (photographed by D.L. Anderson), Liani Yirka (photographed by Julia Jacobs), and a dendrology class (photographed by Nicholas School graduate student Gabriel Campos).