"Something I've observed in Duke Gardens is people bringing loved ones here and pointing out things like the koi pond or the different flowers, and wanting to have these teaching moments and sharing with people why the Gardens are important to them.
"So it's kind of become this really interesting place to watch people connecting with other people. I love that so much."
SK Baudhuin
Duke Class of 2022
A Pondside Transformation
By Paul Jones
Home Garden Winter Tasks
By Eli Feldman
Mindfulness en Plein Air
By Ellen Tumavicus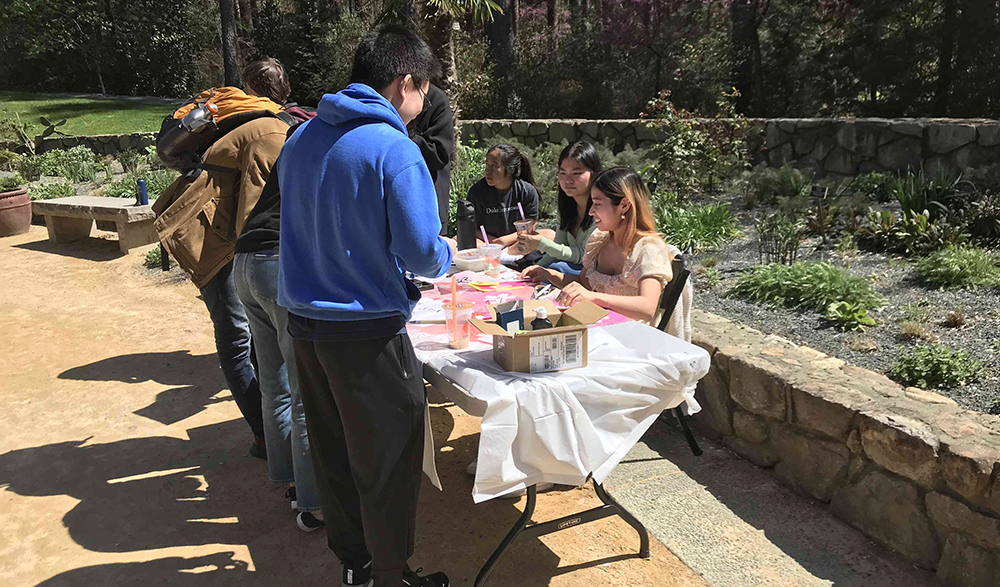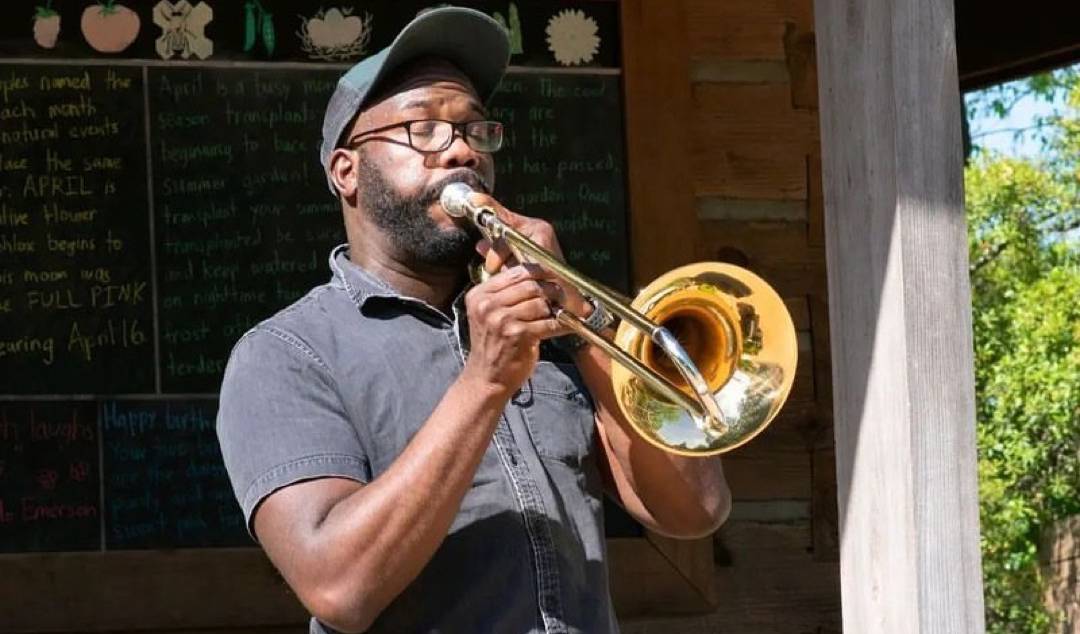 1b
Plants thrive in Duke Gardens, and students do, too. From botany, engineering, math and art classes to open air performances, the Gardens are an integral part of campus life at Duke. Here are a few ways that students connected with the Gardens recently.
02
Amal Dadi is among the Duke work-study students who work as garden guides, helping visitors of all ages gain a deeper understanding of nature and wildlife via our free, drop-in Exploration Station. Here, visitors are learning about seeds.
03
Student volunteers offered free activities for the Hanami organized by Duke's Japanese Cultural Club in partnership with Duke Gardens (2 photos).
05
Duke students Grace Dewyer (center, black sweatshirt) and Quinn Smith (at right in T-shirt), Equity Through Stories work-study program participants, participated in a planting project with the Meherrin Nation.
07
American Dance Festival summer students took inspiration from the Gardens for a performance portrait photo session.
08
Duke Gardens serves as an outdoor classroom to an increasing number of students and classes from the Nicholas School of the Environment and throughout the university, including this dendrology class.
09
The Music Graduate Student Association hosted Kamratōn for a talk on freelancing, followed by performances in the Gardens with the Duke New Music Ensemble and the university's Computational Media, Arts & Cultures program (4 photos).
13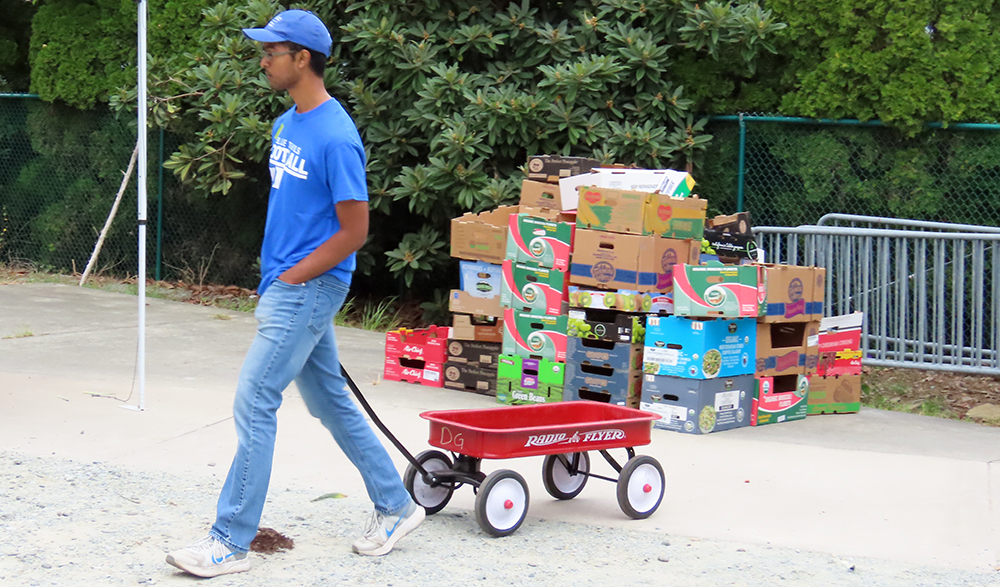 Students with Duke Alpha Phi Omega, a service fraternity, helped load shoppers' cars and return wagons at our Fall Plant Sale.
14
Student photographers and journalists help document student engagement at the Gardens and contribute to the @dukegardensstudents Instagram account.
15
First year student Angela Claveria is also on the student media team and has created several videos, including the winter garden care video here in Growing. Here, she's interviewing artist Claire Alexandre.
16
Duke Gardens and DuWell love joining forces for plant giveaways for students. Hundreds of students flocked to this year's giveaway, selecting succulents that are perfect for dorm life.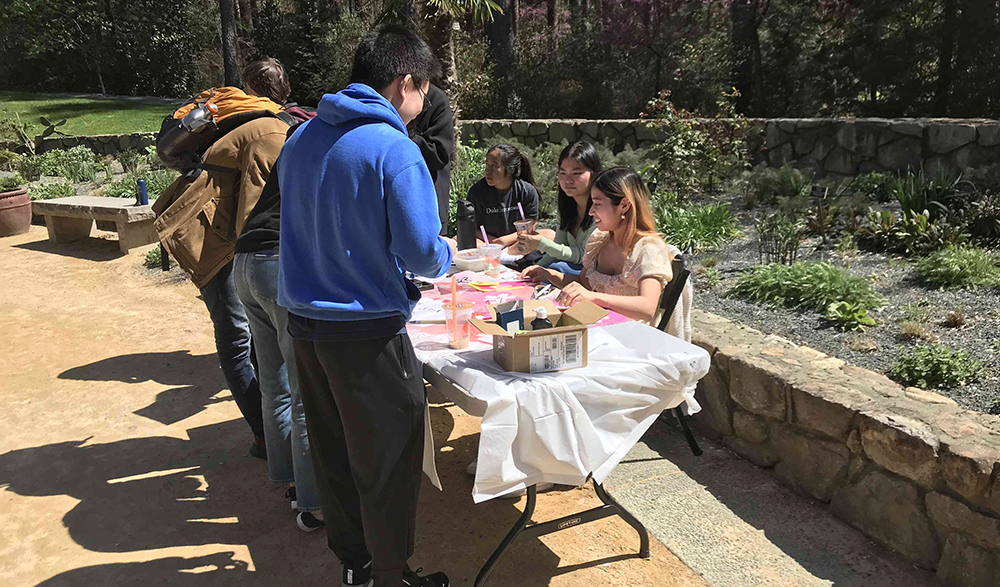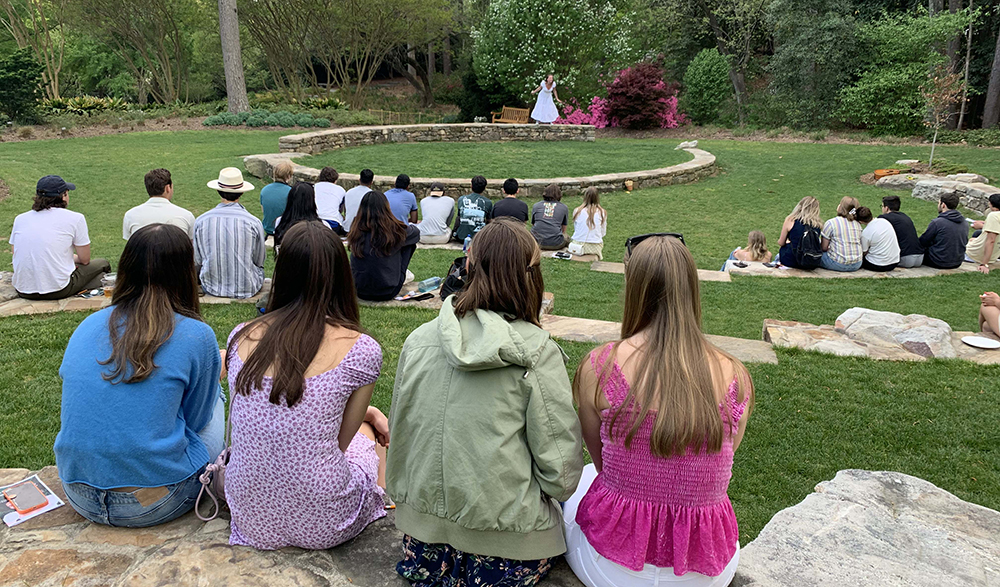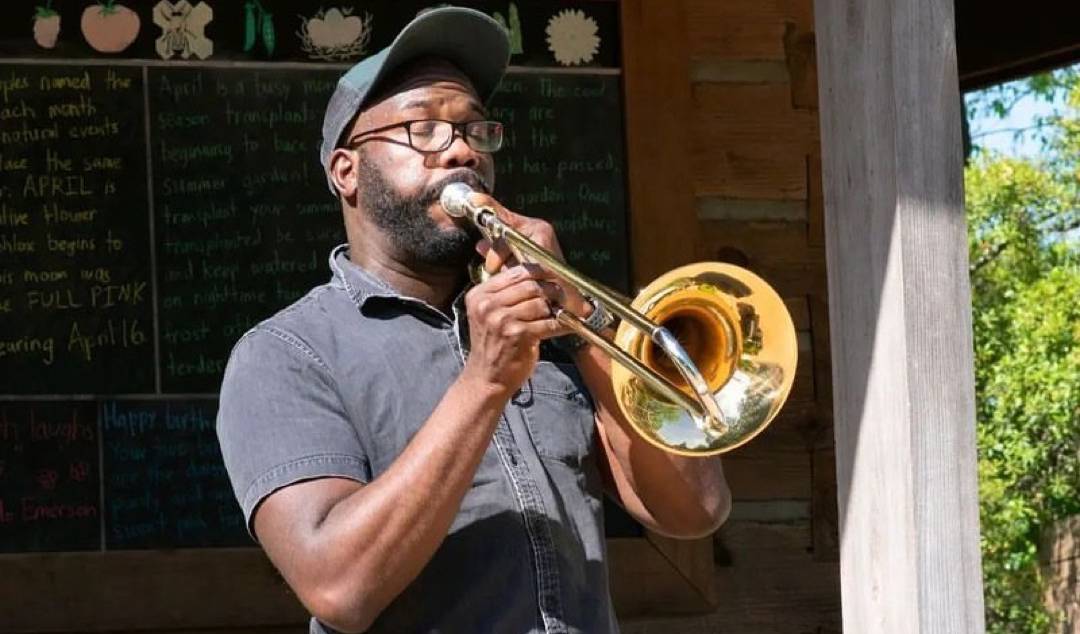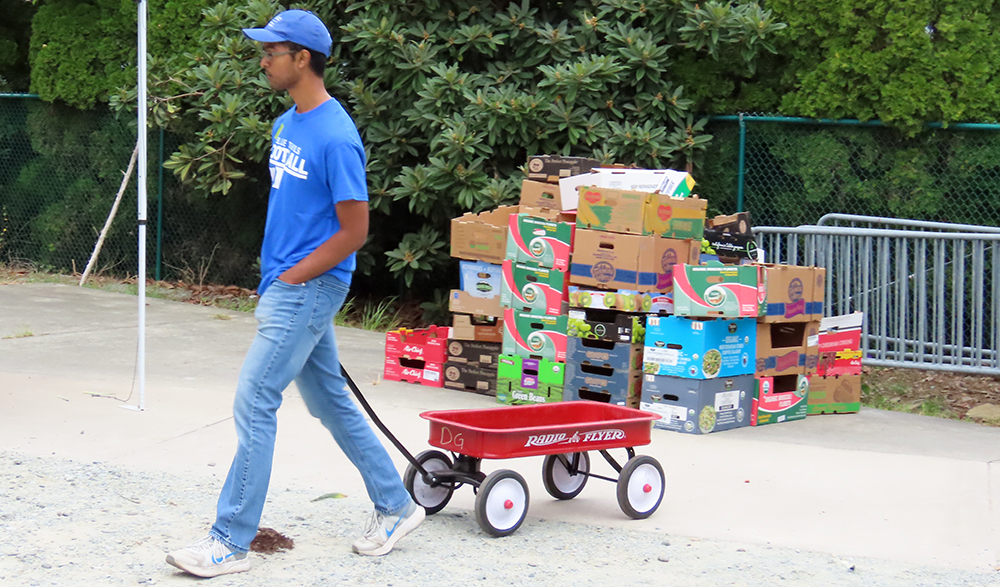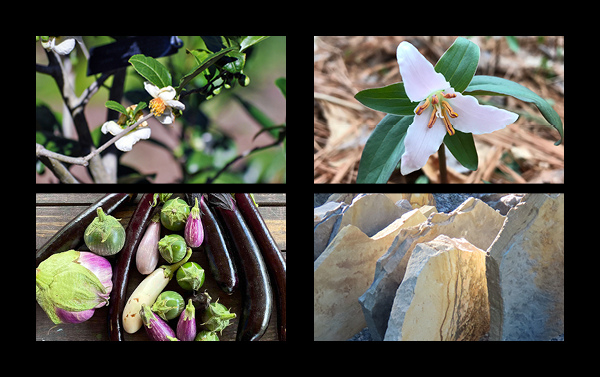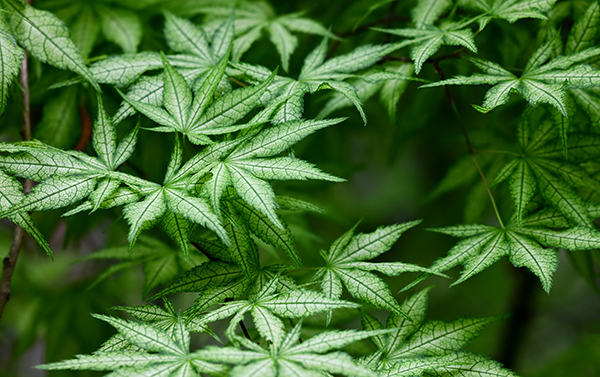 1A: Hanley
Our staff was full of inspiration and creativity this year, so we have lots of intriguing new developments to share. Among them are beautiful new benches for visitors to enjoy, an outdoor Black Lit Library and the stony beginnings of a future iris garden. Here is a sampling.
1B: L. Sullivan Papas Bench
This bench in the Welch Woodland Garden was given in memory of Duke alumna Mary Harris Pappas by her Duke friends and family at her 25th class reunion.
1C: Eggplant
Eggplant varieties were the theme of summer in the Charlotte Brody Discovery Garden. The staff grew dozens of varieties, many of which were quite different from the eggplants we typically see here in the Southeast U.S.
1D: Eggplant Signs
Curator Jason Holmes and colleagues created interpretive signs to show visitors the myriad types of eggplants grown around the world, and a wide variety of recipes that incorporate them.

1E: Bodine Harvest Festival
The Story Circle underwent an inspiring transformation, thanks to Duke graduate student Amal Dadi and Gardens staff. You can read more about it here in Growing.
2A: L Sullivan Burke Chairs
This lovely seating area near the Garden for Peace in the Culberson Asiatic Arboretum was created in memory of Duke alumnus Raymond F. Burke, from his wife, children and grandchildren.
2B: L Sullivan Shapiro Bench
Also in the arboretum is a new bench high on a hill with a peaceful view across the pond to the tea house, created in loving memory of Donald and Nan Shapiro, who found great joy and strength from art and nature. Their daughter and son-in-law, Donna and David Rabiner, made the gift for this inspired project.
2C: Hanley Asiatic Arboretum Acer Palmatum
The path through the arboretum from the Lewis Street gate now features a variety of Japanese maples that are sure to put on a colorful show in coming years.
2D: Arboretum Pond
The arboretum pond underwent a dramatic transformation, which you can learn more about here in Growing. From the vantage point of the Durham-Toyama Sister Cities Japanese Pavilion, you can see the Japanese theme reflected in the new landscape across the pond.
2E: L Sullivan White Tea Camelia
Be sure to visit the new tea camellia garden in the arboretum. The flowers are subtle and lovely, and we plan to offer programs about the history and uses of tea.
2F: Mum Fest
The Festival of Fabulous Mums drew big crowds as always, and horticulturist and mum expert Michelle Rawlins' new mum tours filled up in record time.
3A: L Sullivan Barry Bench
This peaceful new bench in the Blomquist Garden of Native Plants was given in memory of Duke alumnus and longtime Gardens volunteer Donald W. Barry.
3B: Bodine Blomquist
Near the Blomquist gatehouse entrance, be sure to visit this alluring new gathering space with seats and a millstone fountain.
3C: Trillium
The trillium walk is a newly created woodland path adjacent to the sunny pond in the Blomquist. This walk is designed to highlight the Blomquist's amazing trillium collection amongst other woodland spring ephemerals.
3D: Rotary
On seeing and being impressed by the pocket prairies in Duke's hospital parking lot, Dr. Ben Bergman, Durham's head horticulturalist in landscape services, designed a stunning native plant garden for pollinators in downtown Durham. The Blomquist staff propagated and donated approximately 500 plants to this project.
4A: L Sullivan Akwari Bench
This serene stone bench was given in gratitude for the life of Onyekwere E. Akwari, M.D., by his wife, Anne Micheaux Akwari. Dr. Akwari was called to a practice that derives its integrity from service to others.
4B: L Sullivan Terrace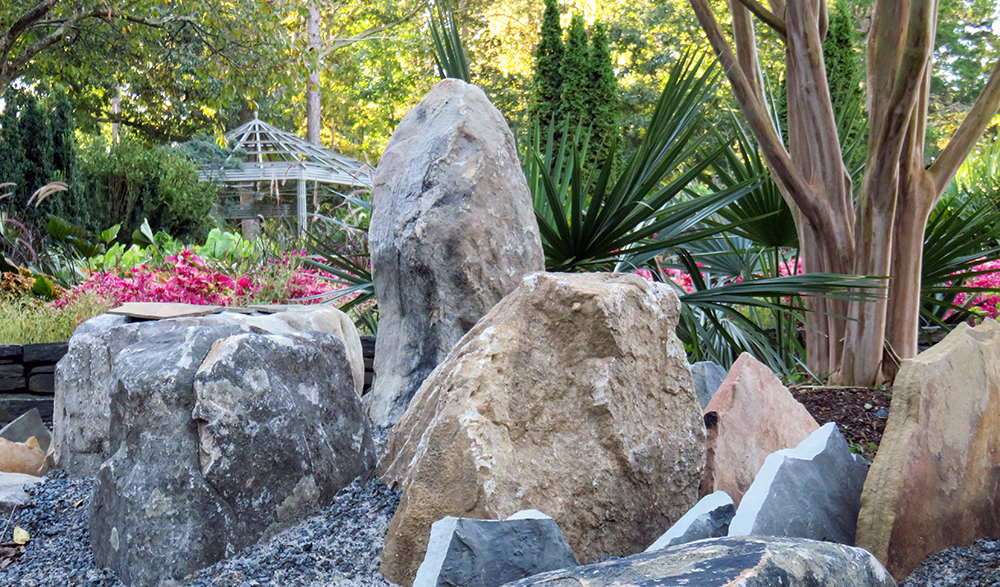 An ambitious new scree garden is taking shape on the north side of the Terrace Gardens.
4C: Iris Garden
Also taking shape is a new seating area along the path to the Memorial Gate. This scenic spot will also include the Hanes Iris Garden.