Duke Gardens' curators take you behind the scenes to discuss how garden areas take shape.
elements of a
White Garden
Jason Holmes, Curator, Doris Duke Center Gardens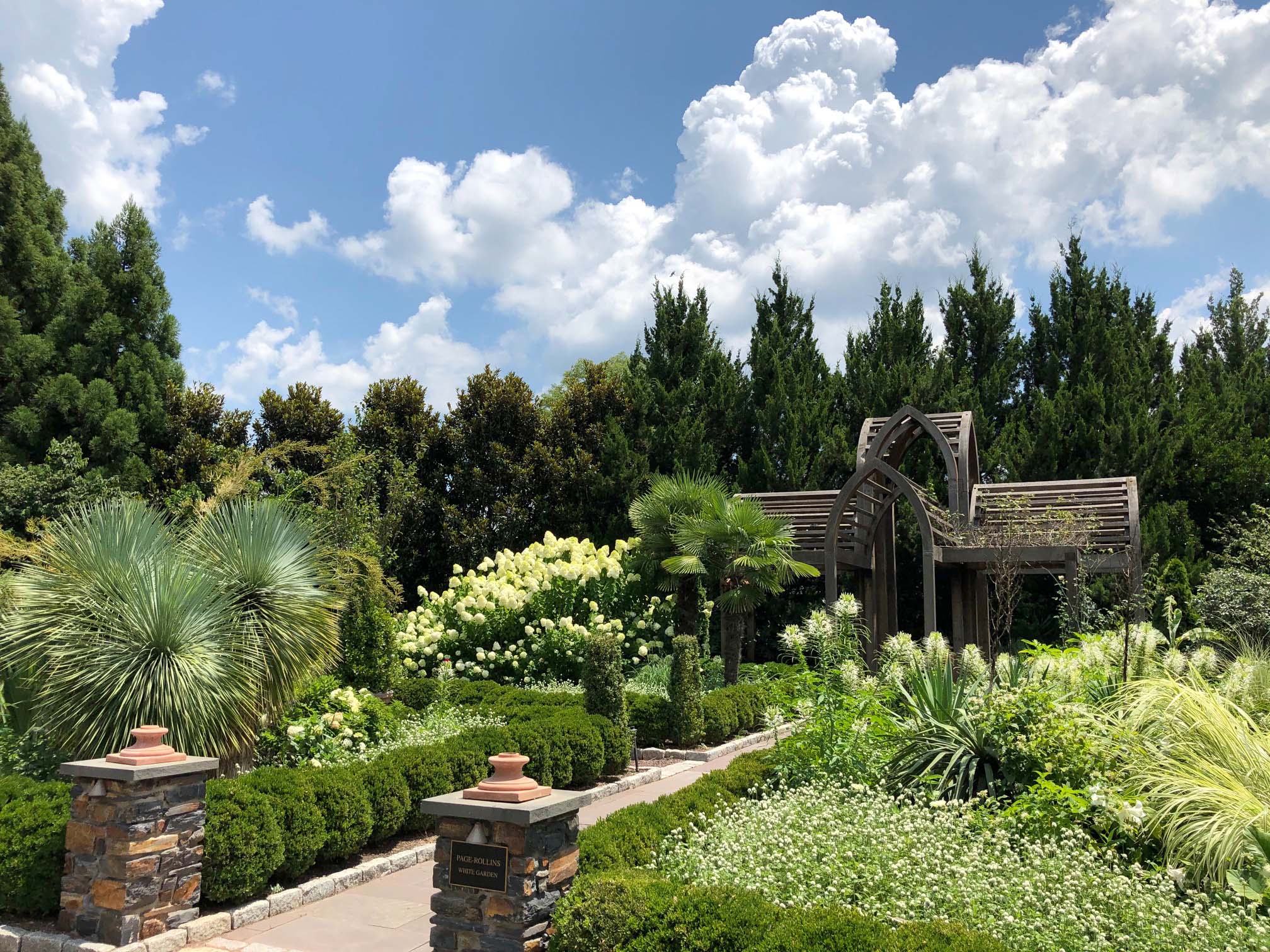 Designing and planting a garden of white flowers seems fairly straightforward. The color has already been chosen, so all you have to do is pick out a white flowering plant and stick it in the ground, right?
Well, it is a little more complicated than that. Yes, in the Page-Rollins White Garden we don't have to worry about making elements of the color wheel work together. However, we do ensure that all the plants harmonize with each other. Here are a few key elements that we consider.
Function: Plants provide many different functions in the garden. What does the plant provide to the space? Is it evergreen or deciduous? Does it provide a green backdrop, or is it a prominent specimen? Function helps us create and define a space
Form: Plants come in many different forms, and this variety helps create flow and shape. Ask yourself, is it upright or mounding in habit? Is it a groundcover or a weeping tree?
Texture: This is the perceived look in shape and size of a plant or plant parts compared to that of surrounding plants—like the large, bold leaf of a hosta or the fine, linear foliage of a grass.
Flowering time: When does it bloom, and for how long? Perhaps an annual may be best suited, since flowering time lasts much longer than that of perennials.
Repetition: Providing repeating elements in the garden is often called "planting echoes." For instance, you may have a large variegated grass that is repeated in a similar looking but shorter form mixed into the surrounding plantings.
elements of a
White Garden
Jason Holmes, Curator, Doris Duke Center Gardens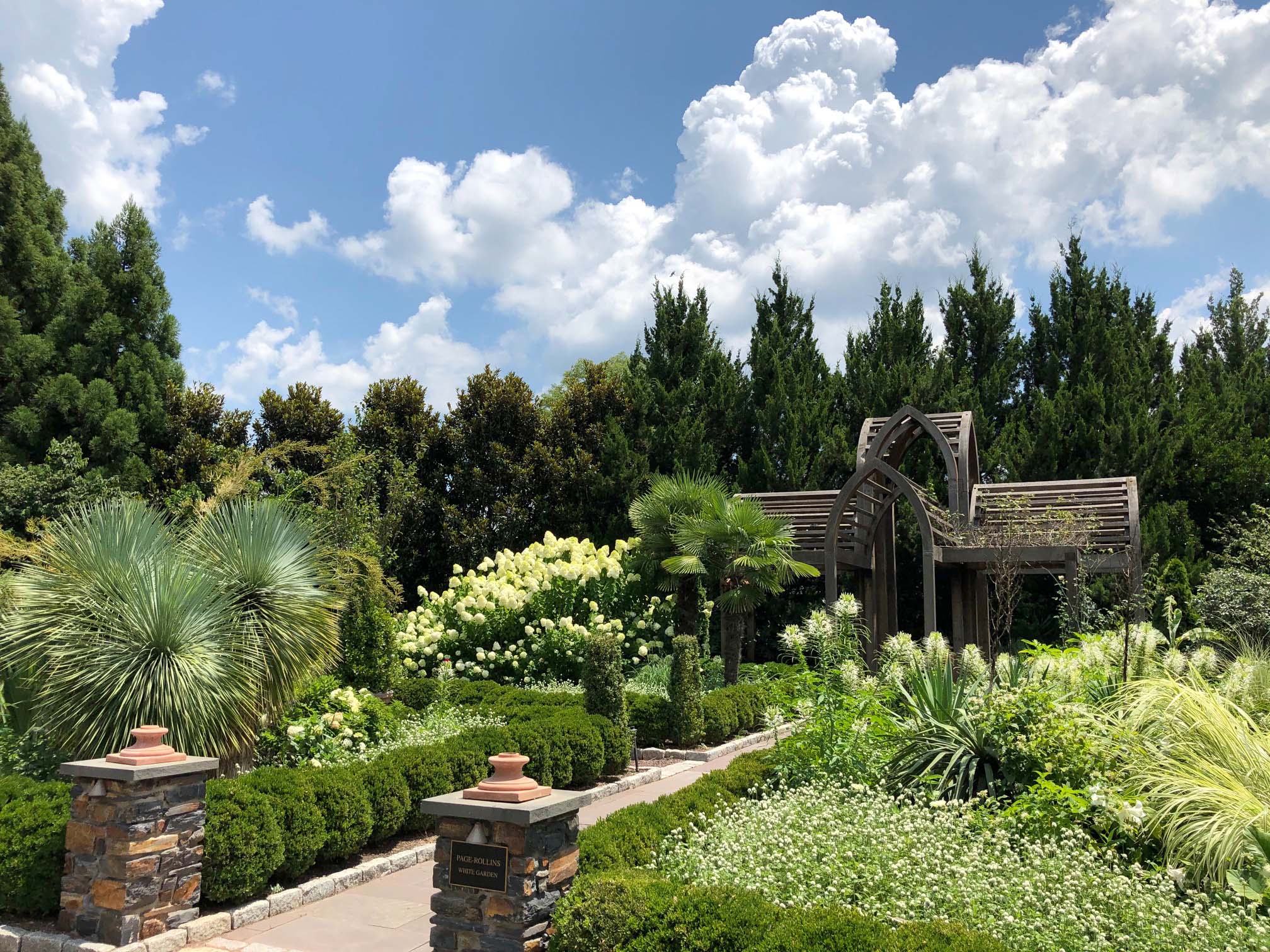 benefits of
Scree Gardens
Mike Owens, Curator, Historic Gardens
When our Historic Gardens team took a trip to England last summer, we were inspired by the scree gardens at Beth Chatto's Garden, which mixed traditional perennials with xeric and Mediterranean plants in a well-drained, gravel-based soil mix with larger stones for visual interest. We decided to create several scree gardens at Duke Gardens.
Our first, in the Terrace Gardens, is focused on hardy and tropical succulents and cacti. Then this spring, when we redesigned the plantings in the Mary Duke Biddle Rose Circle, we added scree gardens at the foot of the walls and adjoining the Roney Fountain patio. These feature sedums, verbenas, lamb's ear and agaves, hens and chicks, mangaves, yuccas, rosemary, lavender, prickly pear cacti, and a fine wispy grass called nassella.
Once established, scree gardens don't have to be irrigated, especially since we selected plants that could survive with minimal care and moisture. This style of gardening is particularly well-suited for roses, because it gives the garden a lot of seasonal interest when the roses are not blooming or showing off their foliage. It also reduces the amount of moisture that gathers on their leaves, which is a major source of fungal disease.
With the scree gardens' colors and textures constantly changing from month to month, the result is a beautiful display of plants all year long.
spaces to
Contemplate
Paul D. Jones, Curator, W. L. Culberson Asiatic Arboretum
At 55 acres, Duke Gardens is a moderate-sized public garden that can be explored in its entirety in a few hours. However, to thoroughly appreciate all the features along the several miles of trails, opportunities to pause are a welcome necessity. And why might a visitor pause? The obvious reason, given the hilly terrain, might be to "take a load off." Other reasons may include to contemplate a planting design or a work of art; to enjoy an unfamiliar flower or a distant view; to take a moment's isolation from busyness or study; to converse with a friend; or to escape to a cool, shady venue on a hot day or the warmth of sunshine on a chilly morning. Thus, Duke Gardens offers garden seating.
The image that enters most people's "mind's eye" when thinking of a seat in a public garden might be the stereotypical English-derived bench design (e.g. Chippendale), often fashioned from a durable tropical wood such as teak, 5 to 6 feet in length, with armrests and a back. However, we regard seating as a space, and we look for naturalistic and artistic materials and compositions that not only fit well within the surroundings but offer increased interest. For example, among the 45 or so "rest areas" in the Culberson Asiatic Arboretum, there are natural and sculpted slab wood benches —fashioned of native woods such as cedar or plantation grown tropical species such as African mahogany; there are wood chairs, flat-topped natural boulders of various types of stone, hewn granite slabs, and benches set beneath shelters. We mix materials, so wooden slabs are often set upon and among natural boulders. And forged metal may be added to artfully complement and bind wood members. With only a couple of exceptions, every seat and the space it occupies is unique.
One final source of enjoyment with garden seating areas is the opportunity they afford our staff to work with donors in the design, siting and embellishment of the seat and space. This team effort emphasizes the public in public garden.
spaces to
Contemplate
Paul D. Jones, Curator, W. L. Culberson Asiatic Arboretum
the invitation of a
New Entrance
Annabel Renwick, Curator, Blomquist Garden of Native Plants
In 2019, we created a new south entrance into the Blomquist Garden of Native Plants, thanks to the generosity of Rick and Beth Fisher, longtime friends and supporters of Duke Gardens. This entrance leads the visitor directly into the Piedmont Prairie, a natural landscape that once covered a substantial part of the Carolina Piedmont before the arrival of European colonists.
The open, wooden gateway perched on a rocky hillside draws people into the garden. The planting at the gateway prepares unsuspecting visitors for the wilder landscape that will meet them as they turn the corner into the prairie. The planting contains many of the "prettier" flowers that are present in the prairie, including many that are endangered.
The building shows the presence of man's hand, and this is reflected in the planting. You'll see a limited number of plant species, along with plant repetition and planting in swathes. The aim of the design was to depict the image of a cottage sitting in a native wildflower meadow.
To learn more about the plants and garden areas featured in the photos in this issue of Growing, please see our
photo information page
.